April 13th, 2019




I just wanted to introduce myself. I'm Sue Leonard and I'm a photographer living in West Yorkshire, England. Apart from being out in the field actually making photographs (not taking - that's a snapshot), I love sitting at my computer for the post-processing activity. In fact, I can't make up my mind which part I enjoy the most.

Over the years I have learned a lot about making and editing photographs and I love to pass on my knowledge to others. I intend to write material for this blog on a fairly regular basis or at least put links to others work if I come across it and have learned something from them. No point in re-inventing the wheel!

So for now, happy clicking!
January 19th, 2019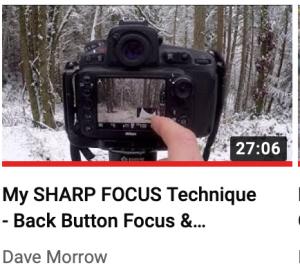 Copy and paste the link below into your search engine to watch a video about getting your photographs in focus. The video is by a guy called Dave Morrow, who, in my opinion, is a brilliant teacher and when out shooting makes videos of how he "got the shot" and gives a full rundown of his thought processes.

https://m.youtube.com/watch?v=vQDhOWcy6f0&t=0